Glo 6GB Data Offer – How To Get 6GB For Just N1000 On Glo
Glo announces a new special for all their prepaid users, it is called Glo Yakata! This plan doesn't just favor new customers, also goes the same for exiting old customers too.
The Glo Yakata plan was firstly announced in Ghana. According to their official website, the YAKATA offers you awesome voice and data benefits when you buy a Glo SIM.
When you buy a Glo SIM today, you get up to 6GB FREE data every month for 6 months (that's 36GB of data total) plus a whooping N2,200 on every N100 recharge to call ALL NETWORKS.
That is to say, anytime, you recharge your GLO sim, you automatically receive amazing benefits, free data, unlimited Glo to Glo calls and free minutes to call other networks.
What I love about the GLO Yakata SIM, it is available on both physical and e-recharge platforms. And when you are already on a GLO Data bundle, you can also recharge and it will top-up the already existing data and extend the expiration date.
Benefits of Glo Yakata
*. Data: You'll receive 6GB of data for 6-months
*. Voice: Load N100 plus and you'll get a total of 2200% values in voice calls, data and SMS
*. If your 1st recharge of the month is N200 or more, you will get a special data bonus that is 2.5 times higher than the regular data benefit
*. The bonus is valid for 7 days
How Migrate to Glo Yakata?
For new customers, it is pre-loaded with the plan. On purchasing any Glo SIM card, you'll automatically be on the Yakata SIM.
Meanwhile, for existing customers, the migrating steps are quite simple and straight-forward. Just dial *220# to migrate. While new and old customers are to confirm if you are on Yakata package, by dialing #100# on your Glo line.
What is the bonus validity on Yakata?
Like many other special offers, the Glo Yakata validity date has been set to 7 days from recharge date. That gives you a lot of time to exhaust your bonus freely.
And also note that you cannot accumulate validity days but you can accumulate your Glo Yakata bonuses.
How much do I pay for making calls on Glo Yakata
*. Glo to Glo calls are charged at 55k/sec for both main and bonus accounts
*. Calls to other networks are charged at 70k/sec for both main and bonus accounts
*. SMS is charged at N4/msg from the main account and N14/msg from the bonus account
How do I Check my Yakata Bonus?
Simple, all you have to do is to dial #22*1# and it will be displayed to your screen. And lastly, you can't share your Glo Yakata bonuses, MB with another Glo customer!
9mobile Magic Hour Promo – 5 Million Naira Up For Grabs At 9Mobile's New Promo
9mobile just started a new promotion called the " 9mobile Magic Hour Promo".
This new offer allows you to win N50000, N250,000 smartphones and many other prizes with a recharge of just N100.
9mobile Magic Hour – How To Qualify
In order to qualify you need to recharge a minimum of N100 and above.
N50,000 (won by 5 people every day), and N250,000 won by One person every day.
9mobile magic hour promo
Recharge a minimum of N300 within the week to qualify for the weekly draws
Stand a chance to WIN 5 smartphones for 5 lucky winners every week.
Recharge a minimum of N1500 within the week to qualify for the monthly draws
You stand a chance to WIN N5Million every month for 3 months.
Recharge a minimum of N4500 during the months of the promotion to win the grand prize, additional recharges gives you more entries into the draws. You stand a chance to WIN N20milion by a lucky winner.

Additional Information
There will be a trivia for this promotion which would involve answering 3 different questions when you send WIN to 88808 charged at N100.
Correct trivia answers give 1 ticket to qualify for the weekly draws only.
If you successfully get all the 3 questions, you'll win bonus airtime of N100 for on-net calls/SMS/PAYGO only.
Winners will be rewarded at prize redemption events held in selected experience centers.
Terms And Conditions
Promo is valid for 90 days, from February 11th
Promo is available to all prepaid customers on Moretalk, Talkzone, Morecliq, Cliqlite, Morelife & Moreflex excluding Staff packages, Morebusiness, Hybrid, Post-paid packages
Promo is not opened to customers in the following regions; Adamawa, Bauchi, Gombe, Borno, Jigawa, Kano, Katsina, and Yobe.
See The New NTEL WAWU Data Plan Bundles – Old Wawu Plans Discontinued
I must confess that 2018 was the best year for Ntel, and all Ntel subscribers must have enjoyed the network and probably still enjoying the network.
N1000 for 12GB and N2000 for 24GB was a life saver, pocket saver and data saver in 2018. However, few months before the end of 2018, ntel encountered a problem that made them shut down their site(myntel.com.ng) till this very moment.
Subscribing to any ntel data plans in 2018 was a torture, torment and even made some faint-hearted subscribers depressed… because on other network you get 1.5GB for N1000 compared to what you get on ntel network.
This is the 4th day of 2019 and we decided to dig deeper the way forward about Ntel and their wawu plans. Here are our findings below;
Ntel wawu plan of N1000 for 12GB has been discontinued. Unlimited weekly is now N5000 and no longer N3750. The expiry dates for the Revised ntel wawu plan have been reduced to 7 /14 days.
Old WAWU Plans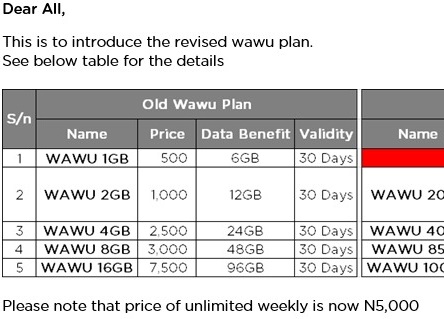 WAWU N500 for 6GB, Validity 30 days
WAWU N1000 for 12GB, validity 30 days
WAWU N2,500 FOR 24GB, validity 30 days
WAWU N3,000 for 48GB, validity 30 days
WAWU N7,500 for 96GB, validity 30 days
Revised New Ntel WAWU Plans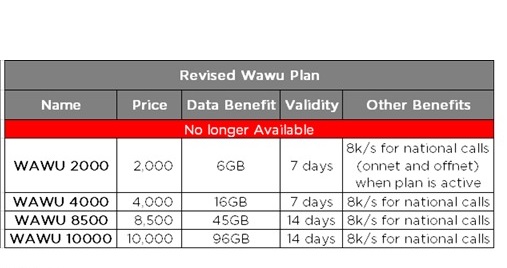 WAWU N2000 for 6GB, Validity 7days
WAWU N4000 for 16GB, validity 7days
WAWU N8,500 FOR 45GB, validity 14 days
WAWU N10,000 for 96GB, validity 14 days
Also note that Unlimited Weekly price is now N5000, while the unlimited monthly remain unchanged.
Now you should be thinking of an alternative network if you are not satisfied with the new revised ntel wawu plan. Let us know what you think.